Our visit to Venice, Florence, and Rome
Venice {Sunday}
After the tour we were given the option of either going off on our own or taking a water taxi to Murano, to tour one of the glass factories. As we'd planned to visit Murano anyway, we took them up on the offer. The ride was about 20 minutes, most of which I spent with my head out of the boat, gawking and taking photos, while Judie chatted up the other passengers inside. They'd just come from Florence, our next destination, and provided numerous shopping and restaurant tips, all of which later proved useless.
Once at Murano, we saw a brief glassmaking demonstration - this being Sunday, there wasn't much activity, and nothing unique to the area. Being a fan of glasswork myself, I'd seen similar processes before in other places, and though it held the usual intrigue, I was somewhat disappointed to see nothing unique.
Rather than take the tour's ride back to the main islands, we opted instead to explore the island a bit, and break for some lunch. While we managed to escape without making very much in the way of purchases, I can see how, if in the right frame of mind, of mind, this part of the trip could become a serious money sink.


After wandering for a while and exploring the shops, we stopped for lunch, and tried our first pizza in Italy, and one of the numerous waterside (what else is there here?) restaurants.

Next was a Vapparetto (boat-bus) ride back to the mainland, to the Jewish Ghetto area. We just missed what we thought was the last walking tour there, but were glad to find that we were in fact nearly an hour early for what really was the last tour. While waiting, Judie found and bought a really nicely illlustrated cookbook in the museum gift shop. The book was available in both Italian and English – we debated a while whether the spirit of the event would be lost by copping out and getting the English version, but ultimately, practicality won out.
The tour included access to a small but interesting museum of Judaica, followed by visits to three Synagogues built 400-500 years ago, yet still in regular use by the Jewish community. Some pretty amazing Baroque art and architecture, but sadly, no photos permitted. The tour was probably not worth what it cost, but viewed as a donation to the museum, it was a fine investment. Next was an unsuccessful walk to the north side of Venice to see a vista that was depicted on my map, but really didn't exist (Judie still thinks this was due to defective navigation), and then a leisurely walk back to the hotel for a rest before tonight's dinner.
---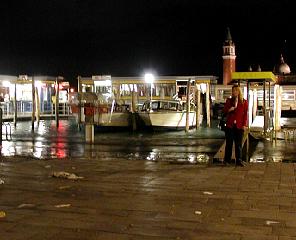 We finished up a bit before ten in the evening, and began working our way back to the hotel, and had a chance to witness Venice at high tide. The first part of our walk took us along the southern shoreline, where we could see that the sea had worked its way up to about street level, or perhaps a few inches higher, as it lapped about a quarter of the way across the plaza. The boats: gondolas, water taxis, and vapporetti appeared to be parked on the street, not in the water and safely below street level.



our evening.