May, 1998, Sau Paulo and Rio De Janiero, Brazil
(Day two, the trade show floor)

The floor of the convention center looked like a construction site. Trade shows always do the day before, but here it seemed even more severe. Because most of the booths were still under construction, they were not easily identified, especially without a map.

After a degree of frustration at two separate booths marked Siemens, neither of which had anyone who'd ever heard of Fabio or Manuel (my contacts) or spoke much English, I eventually made it to a phone, and tried Manuel's cellular (no answer, and then a recorded message in Portugese), and then his home phone number (busy). I wandered around like a little lost lamb for a while (feeling sheepish), checking out what there was to see on the show floor, though most of it was sheetrock dust and the noise of circular saws.
Eventually, I got through to Manuel at home, and he gave me a phone number for Fabio's parents, which is where he was staying. I called him there, explained the situation at customs, and the fact that I couldn't connect with anyone at either of the Siemens booths who knew either him or Manuel. He mentioned someone named Constantine, who would probably be there in about an hour, but then he suggested that I might as well go back to the hotel, seeing as tomorrow would be soon enough to get the work done. Since the booth had not yet been fully constructed, it really wasn't ready to have any equipment installed anyway. So, I wandered around, finally identified which booth was the right one (based upon some geographical clues Fabio gave me), and hailed a cab back to the hotel. I borrowed a trick from a co-worker back at my office here; I handed the cab driver a business card I'd picked up from the hotel, and off we went, nao Inglese or Portugese needed..
Upon reaching the hotel, I called Fabio, explained the situation, and asked him to call customs and let them know that we woudn't be picking up the equipment until tomorrow. He agreed to, and sort of hinted that the proper offer of a few Reals (the local currency) might have solved my problem, but that's not something I was particularly interested in trying on my own. My professional opinion is that two places you definitely don't want wind up in in a foreign country are a hospital, or jail!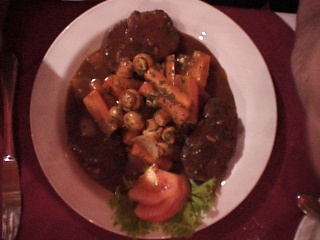 Dinner in the hotel that evening was dull and uneventful. So much so that I took its photo:

Afterward, I verified that water does run down the drain in the opposite direction south of the equator, and even made a videotape as evidence, but technological limitations prevent me from making it available here.